Here's a delicious story: Rejected for 20 years by the old, traditional publishing route, an older woman is hitting it big with a novel about sixty-something romance, thanks to the upcoming, new kid on the publishing block: the ebook.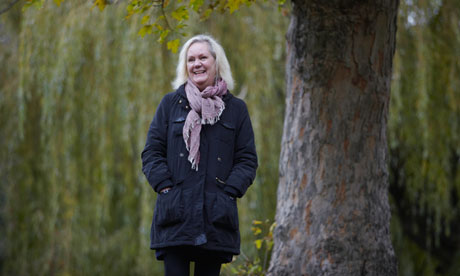 Hilary Boyd in north London. Photograph: Andy Hall for the Observer
English journalist Hilary Boyd had published six non-fiction books on such subjects as pregnancy, step-parenting and depression, but she never gave up writing fiction. Finally, last year she published her first novel, the story of a romance between 60-somethings who meet in a park while the woman is looking after her grandchildren. Alas, Thursdays in the Park, didn't exactly fly off the shelves; it sold under 1,000 copies. But this year Boyd's publisher, the independent imprint Quercus, posted the novel on Amazon as an ebook and something surprising happened.
As an ebook, Thursdays in the Park began selling like crazy, topping more than 100,000 copies. Now Boyd has sold translation rights to the novel, which is also available in paperback, in France, Sweden, Finland and Germany and English director and actor Charles Dance (he once played a Bond villain) wants to make a movie of the story. At 62, Boyd has a bestseller on her hands.
Obviously, there's an untapped market for novels about middle-aged love among Kindle readers. "Old people falling in love and having passionate relationships is not a story that's had much exposure before, but I'm in no doubt that the market's out there," Boyd told the London Observer.
It's the same market that flocked to "The Best Exotic Marigold Hotel" and "Hope Spring." It may even be the same audience that has been reading Fifty Shades of Grey. Why should the rules be any different for an older crowd? If you get the packaging right, sex obviously sells.
The London Observer heralded Boyd's ebook success as a sign of a rise in gran-lit, but books addressing the subject of sex, love and aging are not really new. What is new is the packaging. As baby boomers get comfortable with using Kindles and Nooks, I suspect there will be more demand for ebooks -- both novels and memoirs -- that speak to the challenges that sex and love pose as we age. Meanwhile, here are some of my favorites that I read in old-fashioned book form:
NOVELS
My Dream of You, by Nuala O'Faolain
On the eve of her 50th birthday Kathleen a writer living alone in a basement apartment in London, has all but given up on love. She returns to her native Ireland and researches a 150-year-old mystery about an infamous love affair and ends up finding her own unexpected path to love in the process.
Julie & Romeo, by Jeanne Ray
What would you do if your widowed mother or father began dating? The children of Julie and Romeo are not thrilled with that prospect in this light-hearted novel about steamy late-in-life romance. with a nod to the Bard, the trysting widow and widower hail from two bitterly feuding families who own the town's rival florist shops. But don't expect a tragic ending from Ray, who is the mother of novelist Ann Patchett. Age does have its privileges.
The Leisure Seeker, by Michael Zadoorian
John and Ella Robina have been together for more than 50 years. Now in their 80s, they both face serious illness. Ella has cancer; John has Alzheimer's. They decide to escape from their doctors and adult children and go off on a final adventure, running away from Detroit for a cross-country trip.
Love in the Time of Cholera, by Gabriel Garcia Marquez
Boy meets girl. Girl rejects boy. Boy waits fifty years to get his chance again. Marquez's classic novel begins with a comical death and ends with the long-delayed union of Fermina Daza and her old sweetheart, Florentino Ariza. The two chapters point to the unexpected twists life offers. But they also bookmark a tale that unexpectedly offered something that had been rare in literature: sensual scenes of late-in-life romance. "It is life more than death that has no limits," writes Marquez.
MEMOIRS
The author ran a personal ad in the New York Review of Books: "Before I turn 67, I would like to have sex with a man I like. If you want to talk first, Trollope works for me." She then wrote this refreshingly honest account of what happened next.
Without Reservations: The Travels of an Independent Woman, by Alice Steinbach.
Middle-aged and seeking adventure (but not too much), Pulitzer Prize-winning journalist Steinbach ventures alone to Europe to let her hair down. She wants to experience life, not just observe it. This divorced mother of two grown son finds romance with a Japanese businessman in Paris, goes ballroom dancing in Oxford and almost gets mugged in Rome. "This is what I will have forever," she says on her last day. "The memory of this moment, of rain falling on Venice."
Somewhere Towards the End: A Memoir, by Diana Athill
Long-time publisher Diana Athill in her 90s takes a hard look at growing old and concludes that its advantages outweigh its disadvantages in this funny, brutally honest chronicle of her own loves and long life.
The Virginia Monologues: Twenty Reasons Why Growing Old is Great
, by Virginia Ironside (based on her stage play)
Ironside embraces her inner (and outer) oldster. She thinks growing ancient is a gain not a loss. So much the better if your memory is going. You can forget the bad times, like all the creepy men you slept with in the other sixties. She gives plenty of advice: Take lots of drugs, and not just those prescribed by your doctor. Talk about your various ailments ("I take so many fish oils I'm thinking of joining an aquarium"). Enjoy your grandchildren ("The reward for not killing your children.") As for sex, she's over it: "I have to admit that, at 65, I think I've had enough sex to last me a lifetime -- and I know I'm not the only one...I've found one can have so much better relationships now sex is out of the equation."
Post Scripts: A Writing Life After Eighty, by LaVerne Hammond
LaVerne Hammond (my mother) wrote this collection of columns and essays for senior section of the St. Petersburg Times (now the Tampa Bay Times). Hammond sold her first piece to the newspaper when she was 86. Many of her columns address the subjects of love and old age and, yes, even sex. In one column she describes how she managed to keep the sexual fires burning in her own long marriage of 52 years. In another, after the death of her spouse, she offers advice on dating in your eighties and nineties. Hey, it really is never too late.